Iljin Materials to invest $500 mil to expand production capacity in Malaysia Decision aims to respond to sharp increase in demand for elecfoil more quickly
Translated by Ryu Ho-joung
공개 2022-01-25 08:14:51
이 기사는 2022년 01월 25일 08:11 더벨 유료페이지에 표출된 기사입니다.
Iljin Materials, a South Korean copper foil maker, plans to invest 600 billion won ($502.6 million) to expand its production capacity in Malaysia by 50,000 tons per year to 90,000 tons by 2024, as it seeks to respond more quickly to a sharp increase in demand for elecfoil amid the rapid growth of the electric vehicle market.
The company said in a filing on January 17 that the 600 billion won investment would be made at its Malaysia manufacturing facility, IMM Technology, to "respond to the fast-growing market for secondary batteries with demand for electric cars and electric storage systems on the rise".
IMM Technology currently can produce 40,000 tons of elecfoil, a thin copper foil used for cathode collectors in secondary batteries, annually. As it costs 100 billion won to 150 billion won to boost capacity by 10,000 tons, the 600 billion won injection into IMM Technology represents roughly a 50,000 ton increase in its annual production capacity.
Iljin Materials recently raised about 1 trillion won from private equity firm STIC Investments, which invested 300 billion won in the company in 2019. It also secured about 100 billion won through an issue of convertible notes.
Of the total proceeds of 1.1 trillion won, Iljin Materials originally planned to inject only about 200 billion won into IMM Technology to increase its production capacity by 20,000 tons and use the remaining amount to build new manufacturing facilities in the US and Europe.
But the company has changed its plan and decided to invest 600 billion won to boost IMM Technology's production capacity to 90,000 tons per year.
The decision was to speed up capacity expansion. IMM Technology, which was launched in 2017, already has the land where up to 100,000 tons of additional capacity can be added.
In contrast, Iljin Materials' US and European subsidiaries, named IMA Technology and IME Technology respectively, were established only last year and therefore will likely take more time to start constructing plants.
Industry watchers say the company is hurrying to expand its production capacity to cater the growing market demand, especially from its customers in the US and Europe.
More fundraising needed?
IMM Technology, IME Technology and IMA Technology are all wholly owned subsidiaries of IMG Technology, the overseas holding company of Iljin Materials.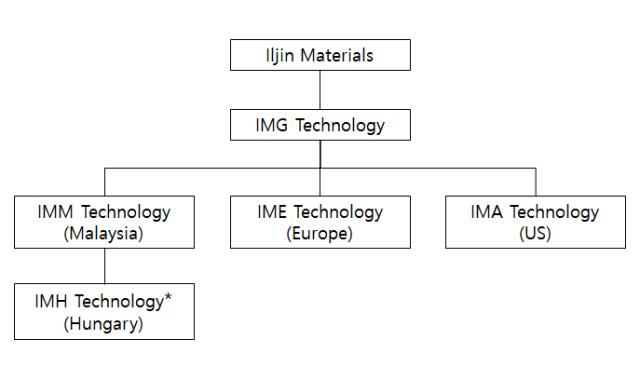 The company reportedly plans to use the remaining amount after investing 600 billion won in IMM Technology to build a plant in Europe with capacity of 40,000 tons per year. But a source with knowledge of the company's plans said the decision on capacity has not finalized yet.
With all of the proceeds going to Malaysia and Europe, Iljin Materials will need to raise additional funds to invest in IMA Technology. The company has a strong financing ability with its net cash position.
Iljin Materials is expected to continue to deliver elecfoil produced in Malaysia to its customers around the world for some time. It reportedly aims to expand the total production capacity of its overseas plants by 200,000 tons in the long term.
"We are exploring investments in IME Technology and IMA Technology, and a decision will be made in the first half of this year," the company said in the filing. (Reporting by Hye-ran Kim)
< 저작권자 ⓒ 자본시장 미디어 'thebell', 무단 전재 및 재배포 금지 >