Shinhan Investment considers selling headquarters Korean brokerage firm starts process to hire sale adviser
Translated by Ryu Ho-joung
공개 2022-01-27 07:59:02
이 기사는 2022년 01월 27일 07:58 더벨 유료페이지에 표출된 기사입니다.
Shinhan Investment Corp, a subsidiary of Shinhan Financial Group, has recently sent a request of proposals to a handful of top real estate firms for a sale of its headquarters in Yeouido, the heart of Seoul's financial district, industry sources said.
The office tower, which was completed in 1995 by Ssangyong Engineering & Construction, comprises 30 stories above ground and seven stories below, with a total floor area of 21,226 pyeong or 70,169 square meters. With its unique exterior design, the skyscraper received the Korean Architecture Award in 1995.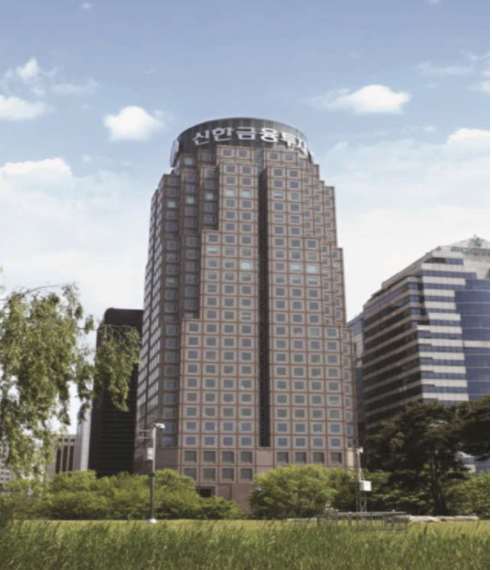 The building was originally owned by Ssangyong Investment & Securities, which was sold to private equity firm H&Q Korea in 1998 and renamed Good Morning Securities.
In 2002, Shinhan Financial Group merged Good Morning Securities into Shinhan Securities, which was renamed Shinhan Investment in 2009.
The sale is expected to fetch at least 500 billion won ($418 million) considering recent transactions of nearby buildings. In February last year, O2 Tower in Yeouido changed hands at 24 million won per pyeong, the highest price for an office tower in the district.
In addition, the bidding for the International Finance Center Seoul, the three-tower complex close to Shinhan Investment's headquarters, heated up with several investment firms at home and aboard expressing interest. A consortium of Singapore-based ARA Asset Management's Korean unit and NH Investment & Securities reportedly offered 4.2 trillion won for the landmark complex.
Industry watchers say it is likely that Shinhan Investment will sell the building and lease it back for the next one to three years.
However, some are skeptical about whether the brokerage firm really wants to sell its headquarters to an external investor. In September 2020, Shinhan Life Insurance, another subsidiary of Shinhan Financial Group, sold its head office building in central Seoul, Shinhan L Tower, to Shinhan Alpha REIT. (Reporting by Gyoung-tae Kim)
< 저작권자 ⓒ 자본시장 미디어 'thebell', 무단 전재 및 재배포 금지 >