Hanon Systems hikes dividend ahead of possible sale 12% increase in quarterly dividend takes company's dividend payout ratio to 80%
Translated by Ryu Ho-joung
공개 2021-05-14 08:27:43
이 기사는 2021년 05월 14일 06:44 더벨 유료페이지에 표출된 기사입니다.
Hanon Systems has raised its quarterly dividend by 12% to 90 won ($0.08) per share in three years after strong first-quarter results, a sign seen by some market watchers as an imminent exit of its private equity owner Hahn & Co.
The company's board of directors approved on Tuesday a cash dividend for the first quarter of 2021 of 90 won per share. The dividend, worth 48 billion won in total, represents a 12% increase from the company's average quarterly dividend of 80 won per share and a payout ratio of nearly 80% for the quarter.
Hanon Systems started paying dividend in 2016 and has since gradually increased it, with the company's average quarterly dividend rising from 50 won per share to 80 won per share for the past five years.
The company recorded strong results for the January to March quarter. Revenue rose 11.6% year-on-year to 1.87 trillion won as its electric vehicle parts division started to contribute to sales. Operating income and net income grew to 94 billion won and 60 billion won, respectively, up 57.5% and 80.8% from a year earlier.
Hanon Systems is a shareholder friendly company, paying out a stable amount of dividends despite volatile earnings from quarter to quarter. Consequently, its dividend payout ratio has fluctuated on a quarterly basis, ranging between 36% and 109% (excluding the second quarter of 2020 due to negative net income).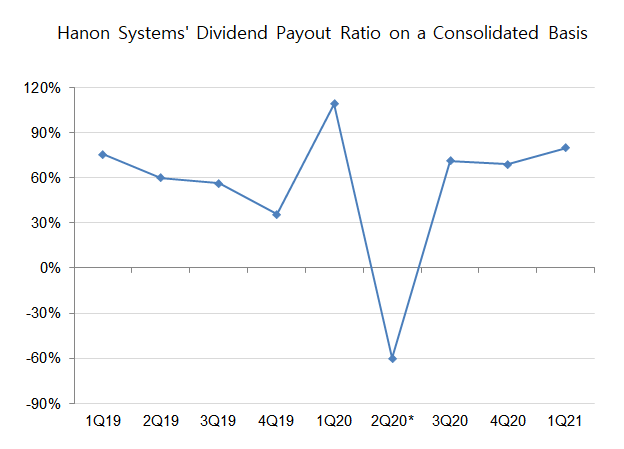 A gradual increase in Hanon Systems' dividends is in part related to the exit strategy of its private equity owner Hahn & Co, industry watchers said. The Seoul-based firm owns 50.5% of Hanon Systems, receiving more than half of the dividends paid by the company. Other major shareholders include Hankook Tire & Technology (19.49%) and the National Pension Service (5.9%).
Hahn & Co acquired Hanon Systems, formerly Halla Visteon Climate Control Corp, in 2015 in partnership with Hankook Tire. The recent increase in dividend payout comes as rumors swirl that the two main shareholders are sounding out potential buyers over a possible sale of their stakes in the company.
"We planned to increase an annual dividend to 400 won per share if we achieve a target of the 1 trillion won annual EBTIDA (earnings before taxes, interest, depreciation and amortization), but we didn't make it due to headwinds including the Covid-19 pandemic," said an official at Hanon Systems. "(The dividend increase) is in line with our commitment to shareholder return." (Reporting by Su-jin Yoo)
< 저작권자 ⓒ 자본시장 미디어 'thebell', 무단 전재 및 재배포 금지 >
Translated by Ryu Ho-joung 의 다른 기사 보기