Teachers' Pension on track for double-digit return on alternative investments this year Korea's $19 billion pension fund benefits from investments in JobKorea and HYBE
Translated by Ryu Ho-joung
공개 2021-10-21 08:06:49
이 기사는 2021년 10월 21일 08:04 더벨 유료페이지에 표출된 기사입니다.
Teachers' Pension is on track to earn a double-digit return on alternative assets after it posted over an 8% return from the asset classes so far this year thanks to bumper gains from its investments in JobKorea and HYBE.
The South Korean pension fund said on Tuesday that its alternative investment portfolio returned 8.53% in the first nine months of 2021, up more than 3 percentage points from a 5.04% return for 2020. The return is equivalent to a 1.78 trillion won ($1.5 billion) gain in the same period, or an annualized gain of 2.37 trillion won, compared to 2.14 trillion won for 2020.
Teachers' Pension has continued to grow in assets under management for the past years, with its AUM surpassing 10 trillion won in 2012 and 20 trillion won in 2020. It had 22.72 trillion won under management at the end of September this year, up 8.66% from 20.91 trillion won at the end of 2020.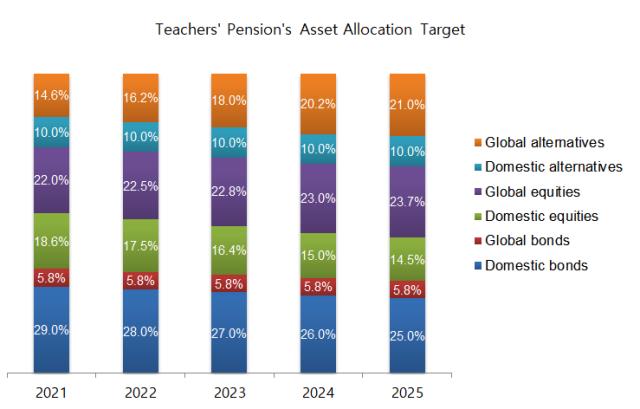 The fund's handsome return was partly driven by successful exits from online recruitment platform JobKorea and HYBE, the entertainment company behind K-pop phenomenon BTS.
Teachers' Pension in 2013 put 70 billion won into private equity firm H&Q's 506.5 billion won third fund, which was used to invest in JobKorea. Other South Korean limited partners in the fund included the National Pension Service, as the fund's anchor investor with its capital commitment of 280 billion won, and Korean Teachers' Credit Union, which committed 100 billion won.
H&Q spent 114.5 billion won on the purchase of a 100% stake in JobKorea over the two years from 2013. The online recruitment company was sold to Affinity Equity Partners in May this year for approximately 900 billion won, giving H&Q a return of 7.8 times invested capital.
Teachers' Pension also invested in STIC Investments' first special situations fund, which closed at 603.2 billion won in 2016. STIC acquired a minority stake worth 104 billion won in HYBE, formerly known as Big Hit Entertainment, via the fund in October 2018, and sold its stake through a block deal in June this year. The exit reportedly produced over an 800 billion won gain and a 137% internal rate of return.
The pension fund intends to gradually increase its allocation to alternative investments from the current 24% to more than 30% by 2025. (Reporting by Ha-na Suh)
< 저작권자 ⓒ 자본시장 미디어 'thebell', 무단 전재 및 재배포 금지 >