Line Next collaborates with 26 partner firms for NFT dominance Line's NFT platform, DOSI, set to be launched in first half of this year
Translated by Ryu Ho-joung
공개 2022-03-22 08:08:01
이 기사는 2022년 03월 22일 08:07 더벨 유료페이지에 표출된 기사입니다.
Line Next, the non-fungible token (NFT) unit of Naver's Japanese messaging subsidiary Line Corp, has entered into partnerships with 26 companies around the world as it pushes to expand its footprint in the global NFT market beyond Japan, the company said on March 16.
The company also announced on the same day that it would launch its NFT platform, DOSI, in the first half of this year. DOSI is built on Line's own blockchain, Link, and will work as a marketplace where companies and creators around the world sell their NFT collections.
The announcement came three months after Line Next was created as a 100% subsidiary of Line in December last year as the Japan-based messaging giant looks to grow its NFT business across geographies.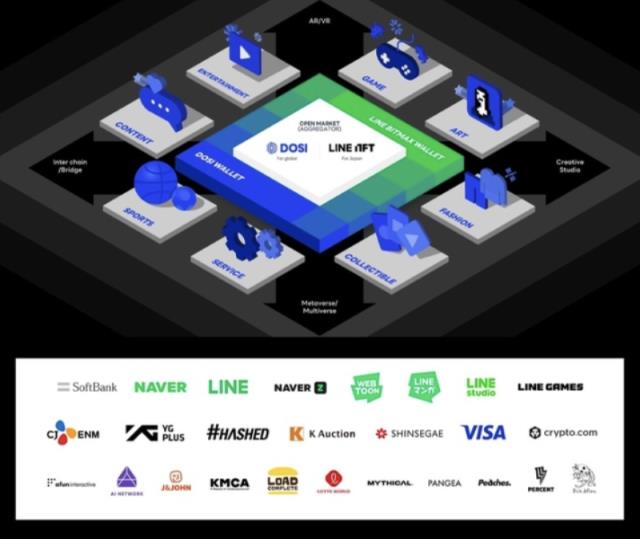 Seven of Line Next's 26 partner firms are Naver affiliates, including not only Naver itself and SoftBank – the parent company of Z Holdings which merged with Line in 2021 – but also Naver Z, the metaverse platform Zepeto's operator, Naver Webtoon, Line Studio and Line Games.
What is notable is that Naver will allow its over 40 million users to sign in their Naver accounts to use Line Next's blockchain digital wallets. This could help users prevent the loss of coins in their digital wallets caused by forgotten private keys, which users themselves need to remember on a decentralized blockchain.
In a similar move, Ground X, Kakao Corp's blockchain subsidiary, launched a blockchain-based digital asset wallet service Klip in June 2020. Users can sign in to Klip with their Kakao accounts to send, receive and store digital assets on their mobile devices. Klip users have increased to more than one million in less than a year since its launch.
Increased investment interest in crypto assets in South Korea over the past year has led to rising demand for digital wallet services. In addition, the Financial Action Task Force's travel rule will come into effect in the country from March 25, potentially giving a boost to the demand. The travel rule is a global set of guidelines for virtual asset service providers designed to tackle money laundering and terrorist financing by requiring crypto companies to collect and disclose customer information for transactions above a certain threshold.
"There has been an increase in novice investors in crypto assets who are not familiar with the decentralized blockchain world. They want an easier access and that's the reason Kakao's Klip has drawn popularity," an industry insider said.
"In that light, Line Next's collaboration with Naver is expected to work out well too. Adding to that, its potential partnerships with crypto exchanges could help further increase demand for its digital wallet service."
"Discussions are underway with Line Next about details of the collaboration," said an official at Naver.
Buy NFTs with Naver Pay?
Naver said that it was considering launching a service that enables users on DOSI to use Naver Pay when they make payments for NFTs, which could significantly promote access to the platform.
NFTs currently can be purchased only with major coins such as bitcoin and ether. If Naver Pay becomes available on DOSI, this means users don't have to buy coins and instead can use their cash and credit cards to purchase NFTs.
"We are in discussions about making Naver Pay available on the platform so as to offer diverse options to users," said a Naver official. "But nothing has been finalized because there are many things to consider technically." (Reporting by Yun-ju Roh)
< 저작권자 ⓒ 자본시장 미디어 'thebell', 무단 전재 및 재배포 금지 >
Translated by Ryu Ho-joung 의 다른 기사 보기