HYBE maintains net cash position despite significant rise in borrowings Entertainment company's borrowings tripled in past year after string of acquisitions
Translated by Ryu Ho-joung
공개 2022-04-05 08:07:52
이 기사는 2022년 04월 05일 08:06 더벨 유료페이지에 표출된 기사입니다.
HYBE, home to K-pop group BTS, has seen its borrowings more than triple in 2021 after a string of acquisitions, according to its annual report, as the South Korean entertainment company looks to grow and diversify its revenue sources.
Its cash flow statement showed that HYBE paid 20.1 billion won ($16.5 million) in interest last year, more than a six-fold increase from the year before. Interest expense in the income statement also sharply rose to 13.2 billion won from 3.9 billion won in the same period.
The increased interest burden was attributed to a significant rise in borrowings. The company's borrowings increased more than tripled over the year from 200 billion won to 636 billion won at the end of 2021, comprising 150 billion won in short-term loans and 486 billion won in long-term loans. They were all borrowed from Korea Development Bank (KDB).
The loans were used to fund the acquisitions of rival entertainment companies, including Source Music in July 2019 and Pledis Entertainment in May 2020. HYBE took out 200 billion won from KDB to fund the purchase of Pledis Entertainment. The loan matures on May 20, 2023.
Last year HYBE acquired Ithaca Holdings, the label behind pop artists Justin Bieber and Ariana Grande, for more than 1 trillion won. The acquisition was funded by cash on hand as well as 436 billion won of loans from KDB and 118.5 billion won of loans from Hana Bank's New York branch at interest rates ranging from 1.67% to 2%.
Despite a significant increase in borrowings, HYBE has maintained a net cash position. Its 2021 earnings before interest, tax, depreciation and amortization were 273.5 billion won, much higher than interest expense of 13.2 billion won, while operating cash flow amounted to 177.2 billion won.
Free cash flow, calculated as operating cash flow less capital expenditures, stood at 82.6 billion won in 2021, which can be used for various purposes including to pay down debt, to spend on acquisitions or to pay out dividends to shareholders.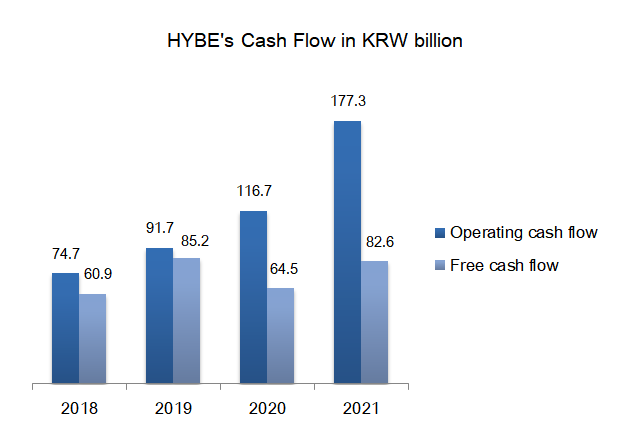 HYBE, however, has no plan to pay dividends yet. This contrasts with other major South Korean entertainment companies such as SM Entertainment, YG Entertainment and JYP Entertainment, which spent 4.7 billion won, 4.6 billion won and 12.2 billion won respectively on dividends last year.
Some of HYBE's shareholders asked for an increase in shareholder returns during an annual general meeting on March 30. In response, HYBE chief financial officer Lee Kyung-jun said the company's revenue has grown "at an annual average rate of 50% in the most recent three years" and stressed that reinvesting in growth, rather than shareholder returns, was "the right direction for the company". (Reporting by Choong-hee Won)
< 저작권자 ⓒ 자본시장 미디어 'thebell', 무단 전재 및 재배포 금지 >
Translated by Ryu Ho-joung 의 다른 기사 보기