Hanon Systems writes off goodwill related to its Beijing unit Entire goodwill of $14.5 mil was impaired in 2021 due to lower growth projections
Translated by Ryu Ho-joung
공개 2022-04-12 08:12:50
이 기사는 2022년 04월 12일 07:34 더벨 유료페이지에 표출된 기사입니다.
South Korean automotive supplier Hanon Systems impaired the entire goodwill related to its Beijing unit last year as the growth of China's auto market slows down.
Some 17.8 billion won ($14.5 million) of goodwill assigned to Hanon Beijing was all written off in 2021, according to the company's annual report. There was no goodwill impairment for the company's other cash generating units, with the amount of goodwill carried on the balance sheet totaling 862.7 billion won at the end of last year on a consolidated basis.
Goodwill, which is the excess of purchase price over the fair value of the identifiable net assets, is tested annually for impairment. Under the International Financial Reporting Standards, if the book value of the cash generating unit exceeds the recoverable amount, an impairment loss is recognized.
Hanon Systems acquired 80% of its Beijing unit in October 2007. Hanon Beijing manufactures and sells auto parts, counting Hyundai Motor, Kia Corp, General Motors and Volkswagen among its main customers.
The company's accounting firm has closely watched Hanon Beijing since 2020 as the unit's growth projections have declined.
The revenue growth rate used to calculate the present value of the unit's future cash flows was adjusted to a range of -20% to 3.73%, much lower than 1.35%-22.86% a year ago, according to the annual report. Operating profit was assumed to grow at -0.31%-2.54% annually, compared to 0.58-12.29% a year earlier.
The growth assumptions were significantly lowered, largely because the Chinese auto industry has slowed down due to supply chain disruptions and geopolitical factors. The Beijing unit's book value also declined by 34.3 billion won to 105.5 billion won at the end of 2021.
Hanon Beijing recorded revenue of 150.7 billion won and its first net loss of 15.2 billion won in 2021, with net profit having declined for most of the past six years.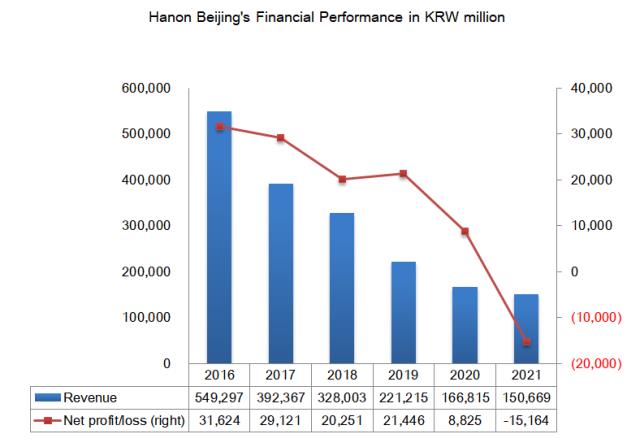 Hanon Systems plans to focus on China's electric vehicle sector as China is the largest electric car market in the world and electric vehicles account for a growing portion of the overall car sales in the country.
Hanon Systems launched a new plant in Hubei, China, in March to supply heating, ventilation and air conditioning (HVAC) modules for electric vehicles. The 6,000 square-meter facility is said to be equipped with advanced and energy-efficient manufacturing technology. Production is expected to begin next year. (Reporting by Seo-young Kim)
< 저작권자 ⓒ 자본시장 미디어 'thebell', 무단 전재 및 재배포 금지 >
Translated by Ryu Ho-joung 의 다른 기사 보기