Golfzon County to file for IPO this week Korean golf course operator seeks valuation of at least $1.6 billion
Translated by Ryu Ho-joung
공개 2022-04-20 08:06:46
이 기사는 2022년 04월 20일 08:02 더벨 유료페이지에 표출된 기사입니다.
Golfzon County, South Korea's biggest golf course operator, is expected to file for an initial public offering this week with a valuation target of at least 2 trillion won ($1.6 billion) on the back of strong earnings growth and an unprecedented golf boom in the country.
The company plans to apply for preliminary approval later this week to list its shares on the country's main Kospi market, according to industry sources.
Golfzon County and its bookrunners are currently at the final stage of preparing the application documents, sources said. They also decided on the IPO timeline, with a target of listing later this year.
It normally takes 45 business days, or two months, to get preliminary approval from the Korea Exchange. Given this and the time needed for the next steps – including the submission of the IPO registration statement, bookbuilding, subscription of shares and payment – Golfzon County's market debut is expected in August at the latest.
Korea Golf Infra Investment, the company's largest shareholder with a 52.7% stake, is expected to sell part of its shares in the IPO. Private equity firm MBK Partners established it in January 2018 to invest in the golf course operator. The remaining stake is held by Golfzon Newdin Holdings, the holding company of Golfzon Newdin Group.
"Golfzon County is the golf group's core affiliate," an investment banking source said. "It is expected to be one of the hottest IPOs in the second half amid a record boom in the country's golf industry."
Golfzon County was spun off from Golfzon County Asset Management in January 2018 and operates about 20 golf courses nationwide. It has grown rapidly in recent years through acquisitions of golf courses.
The company is a market leader with the largest share in the country's golf course market. It delivered a record consolidated revenue of 268.9 billion won in 2021, up 24% from a year ago. Operating profit increased by 69% to 104.8 billion won, with an operating profit margin of almost 40%.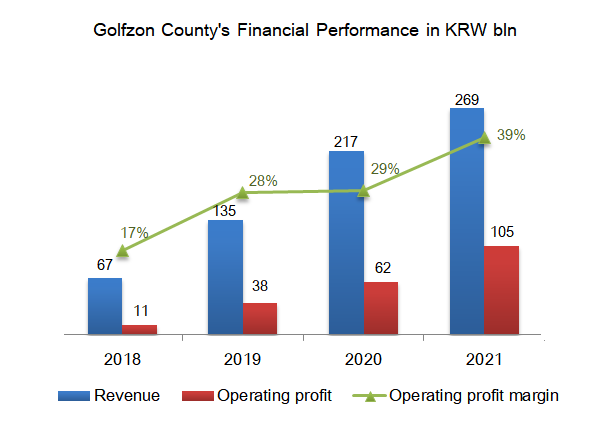 Golfzon County is said to target a valuation of at least 2 trillion won. Many market watchers think it is achievable, with some even saying the target is conservative considering a growing popularity of golf since 2020.
"Golfzon County operates 15 to 20 golf courses across the country, which represent about 400 holes," a market insider said. "Based on a conservative price estimate of 5 billion won per hole, the company's valuation can easily reach at least 2 trillion won." (Reporting by Chul Kang)
< 저작권자 ⓒ 자본시장 미디어 'thebell', 무단 전재 및 재배포 금지 >
Translated by Ryu Ho-joung 의 다른 기사 보기