'We will grow Hugel into global firm,' says CBC Group North America head Michael Keyoung says CBC will continue to explore investment opportunities in Korea
Translated by Ryu Ho-joung
공개 2021-10-13 08:24:06
이 기사는 2021년 10월 13일 08:07 더벨 유료페이지에 표출된 기사입니다.
South Korean botox maker Hugel's 1.7 trillion won ($1.4 billion) acquisition by a consortium comprising GS Group, CBC Group, IMM Investment and Abu Dhabi sovereign fund Mubadala is the biggest deal to date in the country's healthcare industry.
CBC Group, a healthcare-dedicated private equity firm, was little known in South Korea until the deal was announced this summer.
In an interview with the bell on Thursday, Michael Keyoung, CBC Group's managing director and head of North America and South Korea said that the firm was attracted by Hugel's growth potential and will grow the pharmaceutical company into a global player.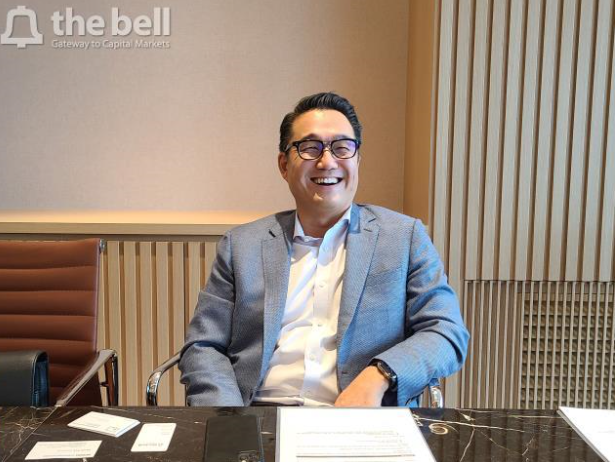 "It is very difficult to find a proven biotech company such as Hugel, especially given the high failure rate of clinical trials," Keyoung said. "What is attractive about Hugel is it offers clinically-proven products while it has yet to enter major markets such as the US and Europe."
A physician with 20-year experience and expert in healthcare business, Keyoung received his medical doctorate from Cornell University and worked as a researcher at Memorial Sloan Kettering Cancer Center and Rockefeller University. He also worked at Korean healthcare firms, including LG Life Sciences and SK Biopharmaceuticals, in 2008 and 2009.
Before joining CBC Group, Keyoung served as president and chief executive officer of Genexine, a Korea-based biotech company developing novel drugs for immuno-oncology, metabolic and autoimmune diseases, from 2015 to 2017. He also founded and led Portola Capital Partners, an investment firm dedicated to the healthcare sector.
CBC Group, formerly known as C-Bridge Capital, was founded in 2014 and focuses on investment opportunities in pharmaceutical and medtech companies. Its assets under management have grown from $200 million to more than $5 billion for the past six years, with the firm investing in 38 companies around the world. It has headquarters in Singapore and New York, and offices in Hong Kong, Shanghai and Beijing.
Keyoung noted that CBC Group is not based in a specific region. "CBC Group is a global investment firm and hasn't raised funds from Chinese investors or invested in China before," he said. "I wanted to correct the misunderstanding that CBC Group is a Chinese investment firm while I stayed in Seoul for three months to oversee the Hugel deal, but I couldn't because of a non-disclosure agreement."
About 60% of investors in CBC Group's latest fund are from Asia and the US, and the remainder from Europe and the Middle East. GS Group, with which CBC Group partnered to acquire Hugel, was the first South Korean limited partner in the firm's fund.
"It is important to team up with a leading player to turn Hugel into a global company," said Keyoung. "GS Group is a reliable partner for us with deep knowledge in the Korean market. Our partnership is based on a shared belief in Hugel's potential to grow into a global brand."
His goal is to grow Hugel into a global pharmaceutical company. Kosdaq-listed Hugel began the registration process for commercial access in the US and Europe, with approvals expected to be obtained in spring next year. Hugel in 2018 established a US joint venture, Hugel America, with Austria's Croma as part of its efforts to enter the US market.
The global botulinum toxin market is estimated to be worth up to 7 trillion won. The US is the largest market, followed by Europe and Asia. The market has a promising growth potential as botulinum toxin is actively used for medical purposes, such as to treat patients with bladder dysfunction, as well as for cosmetic purposes, Keyoung said.
"As a global leading investment firm dedicated to healthcare, CBC Group will continue to explore investment opportunities in South Korea," he said.
The Hugel deal was structured in a way that GS Group and IMM Investment together hold 27.3% of a special purpose vehicle formed to acquire the company. The remaining 72.7% will be held by CBC Group and Mubadala, with CBC Group investing more capital than Mubadala. CBC Group as a result will become the largest shareholder in Hugel at the completion of the transaction. (Reporting by Ha-na Suh)
< 저작권자 ⓒ 자본시장 미디어 'thebell', 무단 전재 및 재배포 금지 >