Hyundai Motor pushes to create 'Hyundaism' with meta-factory plan Korean auto giant's innovation center will collaborate with global tech firm Unity
Translated by Ryu Ho-joung
공개 2022-01-21 08:19:00
이 기사는 2022년 01월 21일 08:06 더벨 유료페이지에 표출된 기사입니다.
Global automakers that ruled the industry at one point have their own revolutionary manufacturing systems. Well-known examples are Henry Ford's Fordism in the early 1900s, Toyota's Just-In-Time method in the mid-1900s and Volkswagen's Modular Transverse Matrix structure, also known as MQB, in the late 1990s.
Fordism opened an era of the mass production of cars with conveyor belt assembly lines. Toyota's JIT supply chain focused on reducing unnecessary inventory, while Volkswagen's MQB platform revolutionized automobile production by standardizing many vehicle component parameters.
In comparison, Hyundai Motor, despite its status as one of the world's top five automakers and its global competitiveness in eco-friendly vehicles, has not yet made notable achievements in developing a production system that can improve profitability and distinguish the South Korean auto giant from its rivals.
The Just-In-Sequence system, one of the elements that characterize Hyundai Motor's manufacturing, does allow for more flexibility than JIT in terms of inventory management because in a JIS environment, components and parts arrive at a production line right in time.
However, it appears the JIS system has not much helped enhance Hyundai Motor's profitability, with its operating profit margin falling to 2.3% in 2020.
Its operating profit margin for 2021 is expected to have improved thanks to increased demand for new cars and supply-driven price hikes. But the improvement could be temporary because it was largely driven by external factors rather than increased efficiency in the company's production system.
Hyundai Motor Group, however, has ramped up initiatives to integrate new and innovative technologies into its manufacturing system. The most notable is its construction of a new innovation center called Hyundai Motor Global Innovation Center in Singapore (HMGICS).
The group's affiliates including Hyundai Motor, Kia Corp and Hyundai Mobis invested more than 200 billion won ($168 million) in the center. The conglomerate broke the ground for the center in 2020, with a target of completing the first phase of the construction by the end of this year and a final completion in 2025.
HMGICS aims to build a meta-factory. By examining a virtual factory's assembly lines that are exactly the same as actual ones in a metaverse space, the auto giant can improve production efficiency more quickly.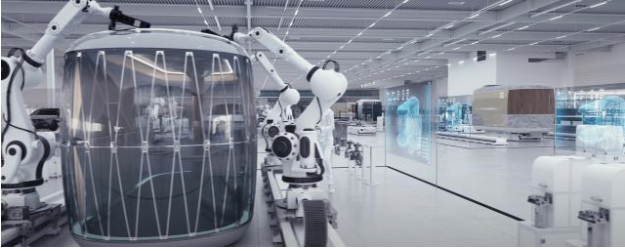 HMGICS will also enable Hyundai Motor to have greater flexibility in switching vehicle models produced in assembly lines. This will allow the automaker to respond more quickly to changes in consumer demand.
Those innovations could lead to establishing Hyundai Motor's own unique production system, which can be called "Hyundaism," and pave the way to improving profitability regardless of external shocks.
In line with this initiative, Hyundai Motor Group recently announced a strategic partnership with Unity, a platform for creating and operating real-time 3D content, at CES 2022 in Las Vegas.
"Hyundai Motor saw significant achievements in its innovative product lineup such as electric battery vehicles and hydrogen fuel cell cars," an industry expert said. "Now its production system needs to improve to become more flexible so as to meet customized needs of consumers." (Reporting by Doung Yang)
< 저작권자 ⓒ 자본시장 미디어 'thebell', 무단 전재 및 재배포 금지 >