Shinhan Card expands business in Kazakhstan Korean card company increases loan guarantee for its Kazakhstan unit by a third
Translated by Ryu Ho-joung
공개 2022-05-12 07:43:33
이 기사는 2022년 05월 12일 07:41 더벨 유료페이지에 표출된 기사입니다.
Shinhan Card, a subsidiary of South Korea's Shinhan Financial Group, is ramping up its expansion in Kazakhstan as part of efforts to diversify its overseas operations.
The card company recently increased a loan guarantee for its Kazakhstan unit, LLP MFO Shinhan Finance, by 32.6% to 67.1 billion won ($52.5 million), according to industry sources.
LLP MFO Shinhan Finance has been actively raising money locally in recent months to accelerate its growth in the country. It took out a $15 million loan in early April after raising 500 million tenge ($1.12 million) through loans in March.
The Kazakhstan unit made a net profit of 2.1 billion won in 2021, up 40% from a year ago. Its total assets also grew 43.25% to 41.4 billion won in the same period. This contrasts with the company's Vietnam and Myanmar units whose earnings plunged last year.
The company's expansion in Kazakhstan is expected to help diversify its overseas profit sources beyond the Vietnamese market, reducing profit volatility.
Shinhan Card's overseas units recorded overall net profit of 1.4 billion won, compared to 24.6 billion won a year earlier.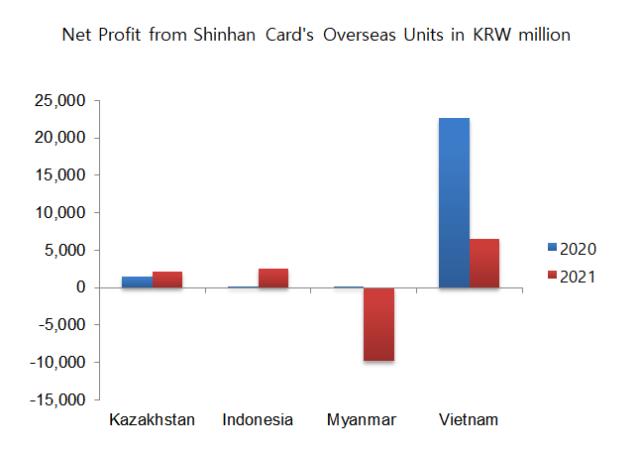 The sharp decline was largely due to weak performance in Vietnam. The Vietnam unit's net profit, which represented over 90% of the company's total net profit from overseas markets in 2020, dropped to 6.5 billion won in 2021 from 22.7 billion won a year ago in the aftermath of the Covid-19 pandemic.
The company's Myanmar unit also recorded 9.8 billion won in net loss last year, a reversal from 200 million won in net profit a year ago, following the military coup there.
"We have operated successfully in overseas markets despite challenges such as pandemic restrictions in Vietnam and political uncertainty in Myanmar," said an official at Shinhan Card. "We will continue to enhance our competitiveness by diversifying the business portfolio and ramping up digital transformation." (Reporting by Gi-wook Lee)
< 저작권자 ⓒ 자본시장 미디어 'thebell', 무단 전재 및 재배포 금지 >
Translated by Ryu Ho-joung 의 다른 기사 보기