K Car files for IPO at possible $1.8 bln valuation Hahn & Co-owned used car retailer seeks to raise $628 mil in planned IPO
Translated by Ryu Ho-joung
공개 2021-06-09 07:57:39
이 기사는 2021년 06월 09일 07:54 더벨 유료페이지에 표출된 기사입니다.
K Car, South Korea's largest used car retailer, has filed paperwork for its initial public offering that could value the company at around 2 trillion won ($1.8 billion).
The used car company plans to sell 16,830,288 shares, or 35% of the total 48,086,533 shares to be listed on the country's main Kospi market, according to the document filed with the Korea Exchange on Friday. Given that it typically takes 45 working days for IPO application review, the book building process is expected to be launched in mid-August.
K Car is the latest in a slew of companies seeking to go public on the South Korean stock market in the second half of this year. Hyundai Heavy Industries and rental car company Lotte Rental filed their IPO applications in May. Hanwha General Chemical joined the IPO pipeline last week, and battery maker LG Energy Solution is targeting a listing in September.
These offerings, expected to raise billions of dollars, could have a negative impact on institutional order books of smaller firms going public on or near the dates of those IPOs. But K Car, which is seeking a valuation of over 2 trillion won, apparently didn't care about those concerns.
K Car is set to be the first used car company to be listed on the country's stock exchange, which could attract interest from investors who want exposure to the growing used car market. There have been no used car retailers large enough to be listed, as the sector has been protected by the government from competition and thus dominated by smaller players.
K Car, which formerly was SK Encar's offline business, was acquired by Hahn & Co in early 2018. It has seen rapid growth under the private equity firm's ownership, with its revenue rising from 742.7 billion won in 2018 to 1.32 trillion won in 2020.
The company also swung to an operating income of 29.2 billion won in 2019 from a loss of 1.3 billion won a year earlier, and the figure grew to 37.7 billion won in 2020. Other players in the market, such as Autoplus and AJ Sellcar, are incomparable in terms of size and profitability.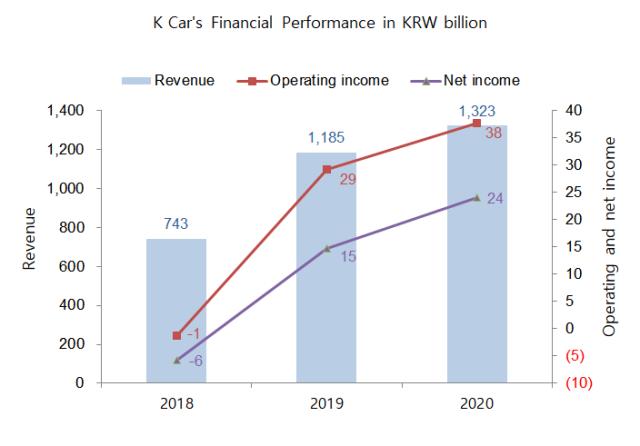 K Car has growth potential as the market is likely to see a wave of consolidation led by larger players amid rising concerns about frauds involving used car sales, industry insiders said.
K Car purchases used cars directly from owners, with 38 directly-managed stores nationwide. It also provides warranty for 365 days and allows both online and offline customers to get a refund if they want to within three days from the purchase. (Reporting by Kyung-ju Lee)
< 저작권자 ⓒ 자본시장 미디어 'thebell', 무단 전재 및 재배포 금지 >