LG CNS wins Busan smart city project, paving way for IPO Busan Eco Delta Smart City project estimated at $4.2 bil
Translated by Ryu Ho-joung
공개 2022-05-20 07:53:26
이 기사는 2022년 05월 20일 07:36 더벨 유료페이지에 표출된 기사입니다.
A consortium led by LG CNS has been selected as the preferred bidder for a smart city project in Busan, South Korea, the company said on Wednesday, as the information technology service provider is trying to increase its value ahead of an initial public offering.
The Busan Eco Delta Smart City project, commissioned by the country's land and transportation ministry and Korea Water Resources Corporation, is estimated to cost as much as 5.4 trillion won ($4.23 billion). The 15-year project includes five years of construction and 10 years of operation.
The consortium comprises 12 companies from various industries such as financial services, construction, mobility, renewable energy, telecom and healthcare. Participants in the consortium include Shinhan Bank, Hyundai Engineering & Construction, SK ecoplant, LG HelloVision, Humax Mobility and Health Connect.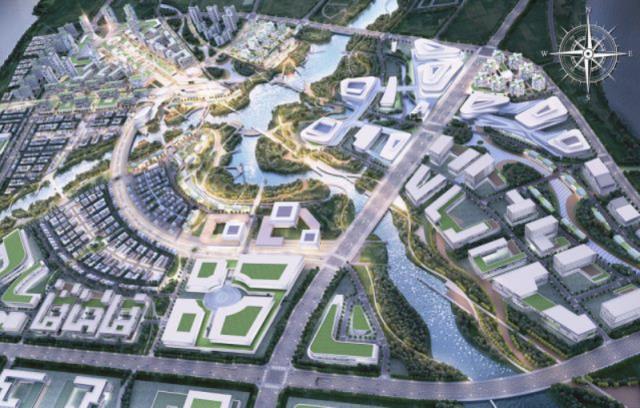 LG CNS is a leading player in the smart city sector, with key technologies like artificial intelligence, digital twin, cybersecurity and smart Internet of Things. It is also in the process of developing a platform that integrates and manages smart city services.
Another consortium led by LG CNS won a smart city project in Sejong, Chungcheong Province, in 2020. Sejoing is one of the only two smart cities in South Korea alongside Busan.
However, the Sejong smart city project has slowed down. The implementation agreement was signed only last month, almost one and half years after the LG CNS consortium was picked as the private partner for the project.
Given this, it is expected to take a while for the Busan smart city project to contribute to LG CNS' revenue. Meanwhile, the construction of the Sejong smart city is expected to begin later this year, potentially giving a boost to the company's performance.
Road to IPO
It is likely the Busan smart city project will help shape the equity story of LG CNS as the company is preparing for an IPO. Investment banks will pitch later this week for roles in the listing.
LG CNS posted strong quarterly results. It made 65 billion won in operating profit on revenue of 885 billion won in the first quarter of 2022 on a consolidated basis. Revenue and operating profits were up 17% and 19%, respectively, year-on-year, the strongest ever first-quarter performance.
Samsung SDS, which is LG CNS' larger peer, reported consolidated revenue of 4.19 trillion won and an operating profit of 273.5 billion won in the same period.
LG CNS shares traded at 84,000 won per share Wednesday in the country's over-the-counter market, bringing its market capitalization to about 7.3 trillion won. However, based on Samsung SDS' price-to-equity (P/E) ratio of 18.36 at the end of last year, LG CNS' value is estimated at only around 4.3 trillion won.
To justify its higher P/E, LG CNS needs to convince investors of its growth potential and strengths that distinguish the company from its competitors.
LG CNS and Samsung SDS are both system integration solution providers but they pursue different growth strategies. Samsung SDS is focusing on expansion in the logistics space, while LG CNS' area of focus is the smart city market. (Reporting by Seul-gi Kim)
< 저작권자 ⓒ 자본시장 미디어 'thebell', 무단 전재 및 재배포 금지 >
Translated by Ryu Ho-joung 의 다른 기사 보기