Hyundai Rotem shares rise on sale rumors Hyundai Motor's subsidiary turned around last year after years of losses
Translated by Ryu Ho-joung
공개 2021-04-22 08:06:49
이 기사는 2021년 04월 22일 08:04 더벨 유료페이지에 표출된 기사입니다.
Hyundai Rotem's recovery is on track as a result of a vigorous restructuring, with its earnings back in black last year after years of losses. Rumors about a sale also seemingly indicate the company's increased attractiveness.
Hyundai Rotem – which consists of three business segments of railway systems, plant and machinery, and defense systems – had recorded losses for three years from 2017, weighing on earnings of its parent company, Hyundai Motor. Its operating loss and net loss widened to 279.9 billion won ($250.4 million) and 355.7 billion won respectively in 2019, the worst results among major subsidiaries of Hyundai Motor that year.
The company announced under leadership of chief executive Lee Yong-bae, who took over in 2020, restructuring plans that included a 20% reduction in the number of executives and an organizational revamp to reduce costs and streamline operations. It pocketed 81.2 billion won from the sale of its industrial gas supplier subsidiary, Green Air, to Hyundai Steel in April last year and also offloaded non-core real estate assets worth 87.8 billion won to Hyundai Mobis in the following month.
Speculation swirled last summer about a possible sale of the company's defense unit to Hanwha, although Hyundai Rotem immediately denied it and reaffirmed its commitment to normalizing the company's operations.
Hyundai Rotem's restructuring efforts paid off. The company has become profitable again, posting an operating profit of 82.1 billion won in 2020. Its financial position has also improved significantly, with its debt ratio down by 150.8 percentage points year on year to 211.8% as of the end of last year. The company's accumulated deficit decreased by 23.4% to 119.9 billion.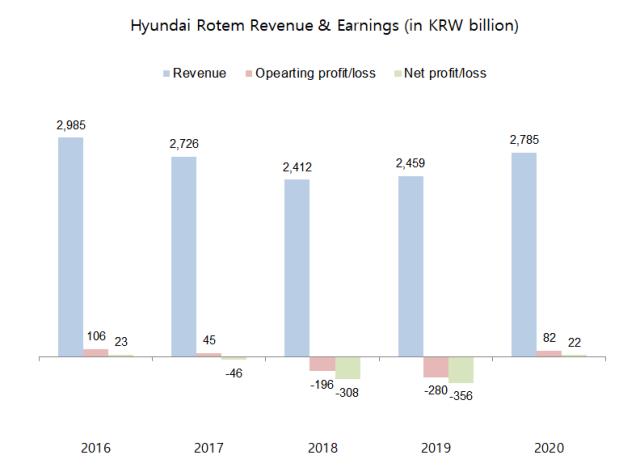 While restructuring operations and reducing costs, Hyundai Rotem has continued to invest in capital expenditure and research and development for future growth. It announced in July last year a plan to establish a hydrogen reformer production facility, and unveiled earlier this week its prototype hydrogen-fueled tram.
Is this the right timing for a sale?
Rumors recently arose that Hyundai Motor had been in talks to sell its stake in Hyundai Rotem to Germany's Siemens. The automaker has a controlling 33.77% stake in the company. Other major shareholders include the state pension scheme National Pension Service, with a 5% stake.
Hyundai Rotem's shares rose as much as nearly 10% during trading on Tuesday after a media report about potential talks between the two sides, although Hyundai Motor denied the rumors on Wednesday.
Hyundai Motor's 36,852,432 shares in Hyundai Rotem are estimated to be worth about 764.7 billion won based on the Monday closing price of 20,750 won per share. A sale could be an attractive option for Hyundai Motor, industry watchers said.
"Hyundai Rotem has shown relatively weak performance in recent years. A sale could be not a bad idea for Hyundai Motor," said an analyst who has covered Hyundai Motor for years. "The key will be the price."
Hyundai Rotem is also not considered one of the key affiliates in terms of Hyundai Motor Group's corporate governance restructuring, which is currently underway in order to address the issue of cross-shareholding. This means that a sale still could be one of the possible options, industry watchers said.
Some said the company could be sold in parts because a foreign investor would not be allowed to acquire the company's defense unit, which generated 822.5 billion won in revenue and 79.6 billion won in operating profit last year. (Reporting by Gyoung-tae Kim)
< 저작권자 ⓒ 자본시장 미디어 'thebell', 무단 전재 및 재배포 금지 >
Translated by Ryu Ho-joung 의 다른 기사 보기