SSG.com's GMV growth accelerates ahead of planned IPO Shinsegae's ecommerce platform records 20% growth in GMV in first three quarters
Translated by Ryu Ho-joung
공개 2021-11-17 08:07:22
이 기사는 2021년 11월 17일 08:05 더벨 유료페이지에 표출된 기사입니다.
SSG.com has seen accelerated growth in gross merchandise value (GMV) each quarter so far this year as it is preparing for an initial public offering next year.
The ecommerce platform's GMV grew to 4.07 trillion won ($3.46 billion) in the first three quarters of 2021, up 20% year-on-year, with the full-year GMV likely to exceed last year's total of 4.74 trillion won considering that the holiday season approaches.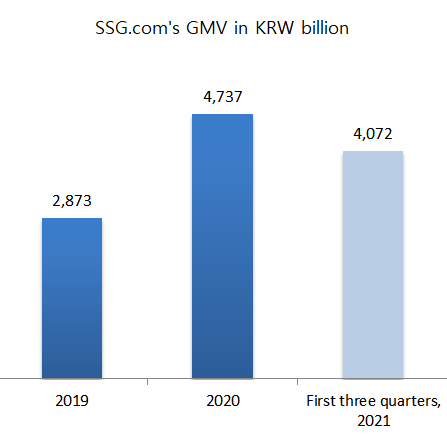 SSG.com's year-on-year growth in GMV has accelerated each quarter this year, up 14% in the first quarter, 19% in the second quarter and 28% in the third quarter.
SSG.com's focus on GMV growth is part of its strategy to increase the value of the company when it goes public on the Seoul stock exchange next year.
SSG.com hired advisers last month, with Mirae Asset Securities and Citigroup Global Markets Securities named lead underwriters for the offering while Morgan Stanley and JP Morgan will act as co-managers. They reportedly put a valuation of more than 10 trillion won on the company.
GMV growth is also important for SSG.com to live up to expectation of its financial investors. As of the end of 2020, the company's largest and second shareholders were Emart and Shinsegae Inc, with 50.1% and 26.9% stakes respectively, and the remaining 23% stake was held by three investors, which together invested 700 billion won in the company.
Under the shareholder agreement, the investors would be able to sell their stakes to the largest shareholder in the company if SSG.com fails to go public or meet the agreed threshold for GMV by 2023.
Meanwhile, SSG.com recorded revenue of slightly more than 1 trillion won in the first three quarters this year, about one-quarter its GMV in the same period. This difference comes from SSG.com acting as a marketplace where consumers can buy products sold by Shinsegae's affiliates.
For instance, if people purchase Shinsegae Department Store's products through SSG.com, the full amount of the transactions are included in SSG.com's GMV but only part of the amount counts as revenue for SSG.com.
SSG.com has continued to heavily invest in information technology and logistics infrastructure as part of efforts to increase GMV. As a result, its operating loss nearly doubled to 67.7 billion won in the first three quarters.
However, the company is in a strong capital position to absorb losses, with shareholders' equity standing at 1.47 trillion won at the end of 2020.
"Our focus is on increasing GMV with a goal of doubling grocery GMV and tripling non-grocery GMV by 2023," an official at SSG.com said. "We will continue investment to achieve the goal by expanding our customer base." (Reporting by Hyo-beom Lee)
< 저작권자 ⓒ 자본시장 미디어 'thebell', 무단 전재 및 재배포 금지 >
Translated by Ryu Ho-joung 의 다른 기사 보기