Coupang shifts focus to profitability amid widening losses Ecommerce giant aims to improve gross margin with stricter refund policy and fee raise
Translated by Ryu Ho-joung
공개 2022-03-30 08:11:50
이 기사는 2022년 03월 30일 08:09 더벨 유료페이지에 표출된 기사입니다.
Coupang, South Korea's leading ecommerce platform, has begun to impose a stricter refund policy and plans to increase its membership fee in a move to shift its focus from top-line expansion to profitability.
Earlier this month Coupang started informing its users trying to change or cancel their orders of its stricter refund policy through a pop-up message, abandoning a 30-day unconditional refund policy that the company had stuck to for years to retain its paid members.
Coupang's unconditional refund service has been abused by some consumers, adding to logistics and other costs. Some of them who bought electronic gadgets such as laptops through Coupang canceled their orders and sent back the same products with defects purchased from other marketplaces to pocket unfair gains.
The price of Wow – the paid membership of Coupang – will also increase to 4,990 won ($4.09) from 2,900 won a month for both new and existing members starting in June. With Coupang's paid members topping nine million at the end of last year, the fee raise is expected to enable the company to earn an additional 216 billion won each year.
Meanwhile, Coupang Eats, the ecommerce giant's food delivery service, will start delivering alcohol with other food starting next month. This will likely help increase delivery orders through the app.
While Coupang's revenue has continued to grow in the past years, losses have also widened. In 2021, the company posted $18.4 billion in revenue, up 54% year-on-year and the highest in its history. In the same period, its operating loss jumped more than threefold to $1.5 billion.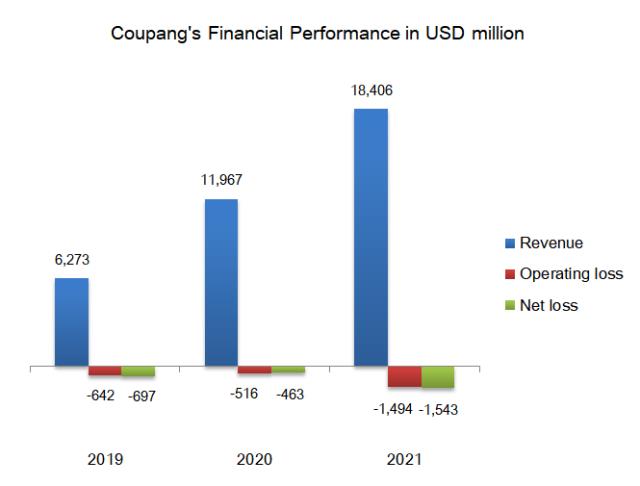 Bargain hunting
In an earnings call, Coupang unveiled its goal to turn its logistics service profitable this year so that the gross profit margin could improve from the current 16.9% to between 27% and 32% in the long term.
The company's greater focus on profitability was welcomed by investors. Coupang shares, which trade on the New York Stock Exchange, ended up 4.48% at $19.7 on March 23 after Deutsche Bank upgraded the company from hold to buy a week ago.
Greenoaks Capital, one of Coupang's major shareholders, recently said in a filing that it bought an additional 200,000 shares in the company at a price of $18.85 each. "Global investors apparently think it's time to bargain hunt for Coupang shares," a market insider said.
The stock price of Coupang has fallen in the second half of last year amid a board tech sell-off in the US and the company's disappointing earnings results, and remains far below its initial public offering price.

SoftBank Group's Vision Fund, the largest shareholder of Coupang, also sold shares worth $1 billion in the company earlier this month, adding to downward pressure on the stock price.
"Some investors expect the stock price to increase to $25, an upside of about 30% from the current price," said an industry insider. "Coupang's shift of focus to profitability will likely help improve investor sentiment toward the company." (Reporting by Nuri Moon)
< 저작권자 ⓒ 자본시장 미디어 'thebell', 무단 전재 및 재배포 금지 >
Translated by Ryu Ho-joung 의 다른 기사 보기