TPG sells part of stake in Kakao Mobility at $6.8 bil valuation Sale will pave way for higher valuation in Korean taxi-hailing firm's planned IPO
Translated by Ryu Ho-joung
공개 2022-04-21 08:10:30
이 기사는 2022년 04월 21일 08:07 더벨 유료페이지에 표출된 기사입니다.
Private equity firm TPG has made a partial exit from Kakao Mobility with a return of over five times invested capital, paving the way for a much higher valuation in the South Korean company's planned initial public offering.
TPG recently agreed to sell a 120 billion won ($96.8 million) stake in the mobility arm of Kakao Corp to an unnamed investment firm, sources said.
The deal valued the company at 8.5 trillion won, according to sources. The buyer reportedly showed strong interest in Kakao Mobility due to its leading market position and growth prospects, and wanted to secure shares as many as possible.
Kakao Mobility, whose main business is a taxi-hailing service, is estimated to be valued at about 15 trillion won in its planned public listing. Daishin Securities, one of its bookrunners, even put a 21 trillion won valuation on the company when the brokerage firm pitched for a role on the IPO.
TPG is expected to reap big from its partial exit from Kakao Mobility. A consortium led by the US private equity firm bought a 30% stake in the company for 500 billion won in 2017, representing a value of 1.6 trillion won.
Shin-Won Yoon, a managing director at TPG who led the investment in Kakao Mobility, has since closely worked with the company to grow it to South Korea's Uber.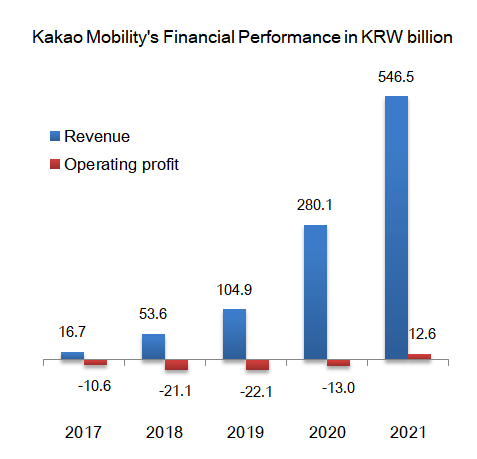 The company has continued to raise funds externally amid its rapid growth over the past five years. Its investors include private equity firm Carlyle Group and tech giant Google, which put 220 billion won and 56.5 billion won into the company, respectively, in February and March 2021.
In June 2021 TPG additionally invested 130 billion won, including a 110 billion won commitment from South Korea's National Pension Service. Carlyle also invested a further 9 billion won in the same month.
Kakao Mobility also raised money from the country's conglomerates LG Group and GS Group in the second half of last year. GS Retail's investment in December bestowed a 5 trillion won valuation on the company.
TPG, which is known for its investment in Uber, is expected to further boost its track record in the mobility sector with its full exit from Kakao Mobility in the future. The company's successful market debut in Seoul could give the private equity firm a return of over 10 times invested capital, industry watchers said.
TPG's latest partial exit will help pave the way for a higher valuation in the company's IPO. Kakao Mobility also plans to step up its expansion into overseas markets this year.
"Kakao Mobility's IPO is expected to go smoothly as it is drawing strong interest from domestic and international investors," an investment banking source said. (Reporting by Se-hun Jo)
< 저작권자 ⓒ 자본시장 미디어 'thebell', 무단 전재 및 재배포 금지 >
Translated by Ryu Ho-joung 의 다른 기사 보기