Affinity Equity not in hurry to exit Hyundai Commercial PE firm may factor Hyundai Motor Group's possible restructuring into exit strategy
Translated by Ryu Ho-joung
공개 2021-09-23 07:37:30
이 기사는 2021년 09월 23일 07:31 더벨 유료페이지에 표출된 기사입니다.
Private equity firm Affinity Equity Partners has denied the possibility of exiting its investment in Hyundai Commercial, which was raised after the South Korean company's announcement of a stock buyback plan.
Hyundai Commercial, part of South Korea's Hyundai Motor Group, said in a regulatory filing earlier Wednesday that it would buy back its common shares and convertible preferred shares worth up to 106.9 billion won ($91 million) next month. The announcement prompted speculation that Affinity Equity Partners may consider a sale of its stake in the company.
The private equity firm, however, noted that the stock buyback plan has nothing to do with its exit strategy, adding that the time is not yet ripe for exit. Hyundai Commercial also said that its plan is mostly about repurchasing convertible preferred shares to improve its capital structure.
"We made an investment in Hyundai Commercial just a few years ago and the company is doing well. We are not considering a sale yet," said an official at the private equity firm. Affinity Equity Partners in 2018 acquired a 25% common equity stake in the company for 141.7 billion won.
Affinity Equity Partners is in no hurry about exiting Hyundai Commercial, probably because there are several exit options. One of them is associated with a possible restructuring of Hyundai Motor Group, industry watchers said.
There has been longstanding speculation that the family-run conglomerate's financial services units could be spun off and run by Chung Myung-yi, the elder sister of Hyundai Motor Group chairman Chung Eui-sun, and her husband Chung Tae-young.
Some industry experts are skeptical about that possibility, pointing out that the conglomerate would want to keep holdings in financial services to create synergies with its automotive business.
The automotive conglomerate has three financial services arms – Hyundai Commerce, Hyundai Capital and Hyundai Card. Hyundai Commerce is the only financial services unit whose shareholders include Chung's family members.
Hyundai Motor is the largest single shareholder of the financing company, with a 37.5% stake. Chung Myung-yi and Chung Tae-young also together own a 37.5% stake. If the spin-off is materialized in the future, the value of Affinity Equity Partners' 25% stake could go up.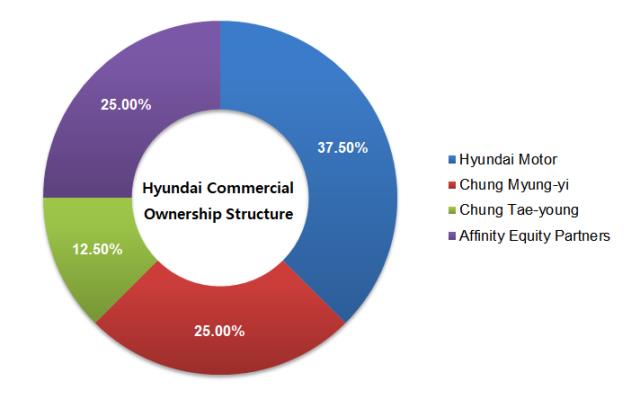 "If Hyundai Motor Group spins off its financial services units, this could be factored into Affinity Equity Partners' exit strategy and (its stake in Hyundai Commerce) could play a positive role between the two interested parties," said a source familiar with the private equity firm.
Affinity Equity Partners also invested in Hyundai Card in 2017 alongside Singapore's GIC and Carlyle group's Alpinvest Partners to acquire a collective 24% stake.
The investors originally planned to exit their investment via an initial public offering, but ultimately agreed last month to sell their shares in the card company to Taiwan's Fubon Financial after the IPO process has been repeatedly postponed due to adverse market conditions. (Reporting by Gyoung-tae Kim)
< 저작권자 ⓒ 자본시장 미디어 'thebell', 무단 전재 및 재배포 금지 >