Possible sale of HMM attracts strong attention Shipping company's international routes and large capacity appeal to industry players
Translated by Ryu Ho-joung
공개 2021-06-22 08:25:39
이 기사는 2021년 06월 22일 08:16 더벨 유료페이지에 표출된 기사입니다.
A possible sale of HMM, in which the largest shareholder is Korea Development Bank (KDB), is attracting strong attention from industry players seeking to benefit from the booming shipping industry, as the state-controlled lender explores options for the shipping company.
Several potential buyers interested in acquiring a controlling stake in HMM have embarked on studying the company, industry sources said. Some of them, including large industry players, openly expressed their interest in the shipping company.
The sale process, if launched by KDB, will likely attract strong interest from potential buyers, industry watchers said, as HMM's restructuring is almost complete and the shipping industry has entered the upward cycle.
HMM has a solid market position as the only South Korean shipping company that operates abroad. Potential buyers are said to want KDB to begin the sale process soon, hoping to maximize synergies by completing the combination of the target with existing operations before the shipping boom peaks.
"The shipping boom, which began late last year, is not like anything seen before," said an industry insider. "The mood in the industry is great and much more upbeat compared with a temporary recovery in 2010."
The country's shipping industry has gone through consolidation since 2016 when Hanjin Shipping went bankrupt, leaving only a few shipping companies as candidates for sale. This is also a factor that increases the attractiveness of HMM.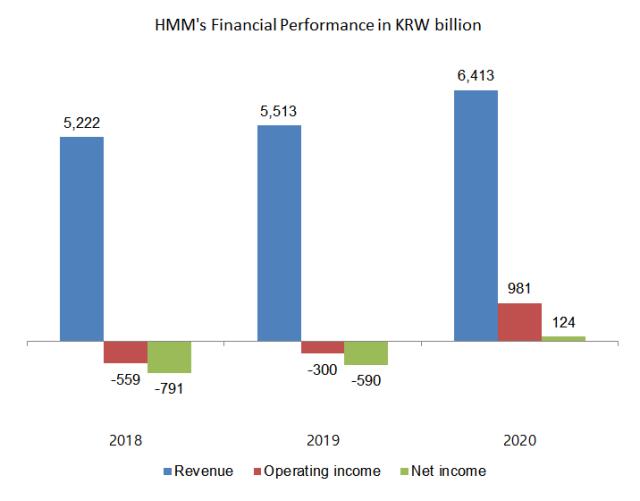 HMM's enterprise value could increase further once the restructuring process completes, some analysts said. With support from the government, the company ordered 20 new ships in 2017. If they are fully delivered by 2022, HMM's fleet capacity will exceed one million twenty-foot equivalent units (TEU).
Many of the new ships ordered by HMM are big ones, including twelve 23,000 TEU ships and eight 15,000 TEU ships. The price of ships with such large capacity has sharply increased recently, with container freight rates soaring due to high demand for cargoes.
HMM's existing fleet also consist of relatively high-quality ships, as many of the old ships were sold off during the restructuring process. Most of the ships currently owned by the company are equipped with exhaust gas cleaning systems, also known as scrubbers, complying with rules adopted by the International Maritime Organization. (Reporting by Seul-bong Go)
< 저작권자 ⓒ 자본시장 미디어 'thebell', 무단 전재 및 재배포 금지 >