Kakao Games steps up overseas expansion with Playable Worlds deal Korean game publisher leads US MMO developer's latest funding round of $25 mil
Translated by Ryu Ho-joung
공개 2022-04-26 08:09:11
이 기사는 2022년 04월 26일 08:03 더벨 유료페이지에 표출된 기사입니다.
Kakao Games, the gaming subsidiary of Kakao Corp, has invested $15 million in a Series B funding round for US game studio Playable Worlds, as it ramps up its global expansion plans.
The South Korea-based company led the $25 million funding round, according to its announcement on April 21. The investment was made through its European unit, Kakao Games Europe BV.
Playable Worlds was founded in 2018 by online gaming veterans Raph Koster and Eric Goldberg. Koster is a game designer behind Ultima Online and Star Wars Galaxies. Goldberg has also worked primarily on role-playing games. The California-based company is developing cloud-based massively multiplayer online games (MMO) and a metaverse platform.
The announcement followed a $20 million investment in Frost Giant Studios by Kakao Games in January. The US game developer was founded in 2020 by Blizzard Entertainment strategy veterans Tim Morten and Tim Campbell.
Kakao Games has grown inorganically through acquisitions in the domestic market. It created a playbook in which it publishes games of developers that it invested in and acquires those whose game titles become successful.
The acquisition of Lionheart Studio was the latest example of this playbook. Kakao Games bought 8.33% of the South Korean game studio for 5 billion won ($4 million) in 2018 and later increased its stake to 21.58%. In November last year, it further purchased a 30.37% stake through its European unit after the game studio's Odin: Valhalla Rising, which was released last year, has become a big hit.
Kakao Games unveiled its global expansion plans in its letter to shareholders in the third quarter last year, with a motto of "Beyond Korea". It has since explored investment opportunities in global markets, with its European subsidiary leading the effort.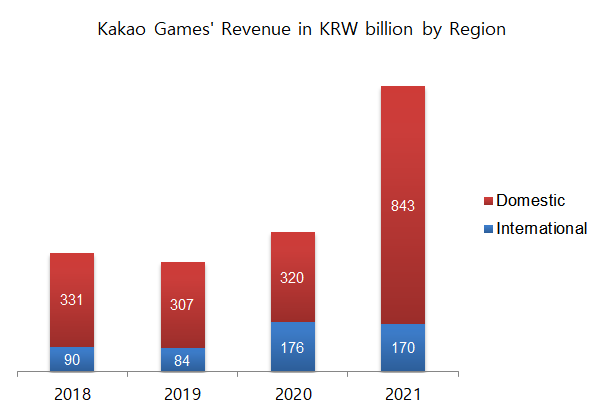 Frost Giant Studios plans to unveil a new, real-time strategy game later this year, while Playable Worlds is aiming to launch its first cloud-based MMO next year. Many industry experts expect Kakao Games to be the publisher of those games.
"We cannot disclose details of terms and conditions," a Kakao Games official said of whether the company will publish Playable Worlds' new game. "The latest investment was part of efforts to expand our footprint in the global market." (Reporting by Won-ji Hwang)
< 저작권자 ⓒ 자본시장 미디어 'thebell', 무단 전재 및 재배포 금지 >
Translated by Ryu Ho-joung 의 다른 기사 보기