SSG.com's PE investors may pocket hefty profits from IPO Ecommerce platform estimated to be valued as high as $8.6 bil in planned IPO
Translated by Ryu Ho-joung
공개 2021-08-25 10:33:13
이 기사는 2021년 08월 25일 08:08 더벨 유료페이지에 표출된 기사입니다.
Private equity investors in SSG.com may have an opportunity to reap large profits if the company goes public next year, as its value is estimated to reach 10 trillion won ($8.56 billion), more than three times the valuation at which the investors invested in 2019.
Affinity Equity Partners has started to explore options to exit its investment in SSG.com, industry sources said on Monday.
SSG.com is in the process of hiring underwriters for its initial public offering, which is expected to take place next year. Affinity Equity Partners is discussing options such as making a partial or full exit from the company in the planned IPO and divesting its shares later through block trades.
"(Affinity Equity Partners) has various options in mind," said a source with knowledge of the private equity firm's plans. "They are not in a hurry as the IPO process is only in the early stages."
A consortium of Affinity Equity Partners, BRV Capital Management and Rutter Private Equity signed a deal in October 2018 to invest a total of 1 trillion won in SSG.com, then the ecommerce businesses of Shinsegae Inc and Emart.
In March 2019, SSG.com was launched after the split-off from each unit and the subsequent merger, and the consortium acquired a combined 23% stake in the company through a 700 billion won private equity placement.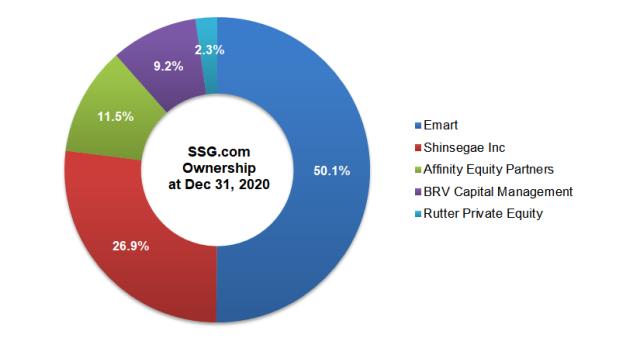 Affinity Equity Partners, BRV Capital Management and Rutter Private Equity injected 350 billion won, 280 billion won and 70 billion won, respectively into SSG.com. The investment valued the company at a little over 3 trillion won.
SSG.com has since grown rapidly. Its revenue jumped from 8.8 billion won in 2018 to 844.2 billion won in 2019 and 129 trillion won in 2020. Operating loss was narrowed from 81.9 billion won in 2019 to 46.9 billion won in 2020.
This positive momentum has continued in the first half of this year. The company also announced a 265 billion won takeover of online fashion platform W Concept in April as it aggressively pursues expansion.
Some analysts expect the IPO to value SSG.com at over 10 trillion won, more than three times the company's valuation from two years ago. If this valuation is achieved, Affinity Equity Partners' 11.5% stake in SSG.com would be worth 1.15 trillion won, representing an 800 billion won gain.
Affinity Equity Partners has made several notable exits from its investments in South Korean companies. The firm's stake in brewer Oriental Brewery was sold to Belgium-headquartered Anheuser-Busch InBev in 2014 in a deal that delivered a 4.8 trillion won gain to Affinity Equity Partners. The disposal of the firm's shareholding in Loen Entertainment to Kakao in 2016 generated a 1.2 trillion profit. (Reporting by Gyoung-tae Kim)
< 저작권자 ⓒ 자본시장 미디어 'thebell', 무단 전재 및 재배포 금지 >
Translated by Ryu Ho-joung 의 다른 기사 보기